Roof repairs and roof installations by exceptional roofers in and around Epsom, Surrey
Are you looking for experienced, friendly and helpful roofing specialists in and around Epsom, Ewell or Stoneleigh? Whether you are looking for roofing replacements, emergency roofing repairs or advice about the best roofing system for your property, our experienced and professional Surrey roofers can help. We work across the domestic and commercial sectors and offer competitive prices and exceptional standards of work.
World of Roofing is a family-run business, which was founded over ten years ago. We offer a range of bespoke roofing services tailored to our clients' needs.
We specialise in the following roofing services:
General roofing: Whether you need roofing repairs and maintenance or a new roof, our team can help. We install all types of flat and pitched roofing systems, including felt, slates, tiles and fibreglass.
Flat roofs: We can install new flat roofs on extensions and garages and re-roof existing flat roofs. We can also repair holes in flat roofs or other flat roof issues.
Roof repairs: Do you have slipped tiles or a leaky roof? We undertake a range of general repairs and emergency roofing repairs when there has been storm damage.
Guttering and rooflines: As well as roofs, we maintain and install roofline products, including fascias, soffits, bargeboards and guttering. This will ensure they do their job and keep your roof and walls dry and water away from the structure of your property.
Bespoke services: We also offer a range of bespoke roof services, such as chimneys, parapet wall repairs, leadwork, roof vents and roof windows and skylights.
We are proud of our reputation locally for offering excellent workmanship and highly-competitive prices. Recommendations on independent reviews site Checkatrade are testament to our workmanship and reliability. We are also Surrey Trading Standards approved and all work comes guaranteed for your complete peace of mind.
All work is completed promptly with minimal disruption and we have a keen eye for detail. We can advise you carefully about the best options for your roof within your budget.
For a no-obligation quote for roofing work or to ask us about a roofing project, please call us now on 07719 059 070. We also offer all roofing services in Esher.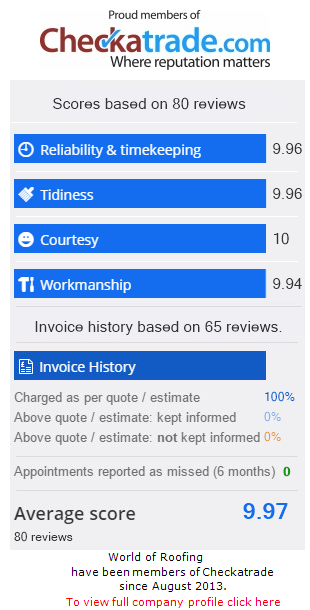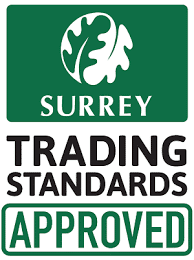 Roof repairs by our roof company near Ewell (KT17)
Is your roof leaking after a storm? Do you have slipped or missing tiles or slates? Is the membrane of your flat roof torn? Whether you need minor roof repairs or a complete re-roof, our team can help. It is essential that if your roof is experiencing issues that you seek professional help quickly, before damp sets in and more substantial damage occurs.
Our prompt and professional roofing repairs include:
General roof repairs
Storm damage repairs
Cracked or slipped tiles and slates
Lead work
Flat roof repairs
Gutter and roofline repairs
Roof maintenance
Efficient roof maintenance work will prolong the lifespan of your roof. We will always find the most efficient and affordable options.